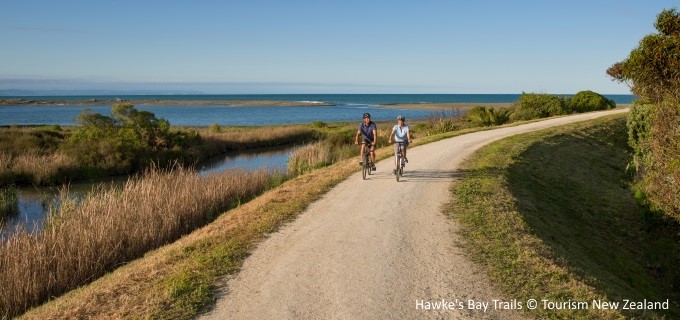 Napier Tandem Cycle Event
We are excited to be running a unique tandem bike event this year in April. This event will be an adventure along some of Hawkes Bay's beautiful cycle trails. We will explore what the spectacular coastline has to offer, enjoy shared meal preparation and eating, the hot pools and wine tasting at one of Hawkes Bay's famous wineries.
Who should attend?
The programme is open to clients who are 18 years and older who are interested in exploring Hawkes Bay's coastline from the comfort of the tandem bike.
You must be:
You will be an active team member in the group, participating fully.
Fit enough to cycle for 5 hours a day (40km per day)
Have good adaptive daily living, orientation and mobility skills.
Be part of a community, this includes shared accommodation, communal meal preparation and eating.
What we hope you will gain from the programme
Personal development and self confidence
Working collaboratively as a part of a big group
Growing Peer Support relationships
Chance to explore everything that the beautiful Hawkes Bay has to offer
When and where?
The 3 day programme will be held in Napier, Hawkes Bay. One day will be travel to the Hawkes Bay and 1 and a half days of tandem cycling on Napier's beautifully flat trails.
We will be staying in shared accommodation at Kennedy Park Napier.
Cost is $120 (this event is subsidized by the Blind Foundation). This includes accommodation, all meals, tandem bike hire, sighted guiding from volunteers, and hot pool entry on the final night.
Please contact Jo, Erin or Richard if cost would be a barrier to participation.
Interested? Know someone who is?
For further information and an application form please contact either:
Erin Leonard on 027 808 3814 or email eleonard@blindfoundation.org.nz.
Richard West on 027 8083752 or email rwest@blindfoundation.org.nz.
Jo Hagele on 027 808 14 05 or email jhagele@blindfoundation.org.nz.
Applications close 4 April 2018.
Kennedy Park
11 Storkey Street
Napier