My life has never been the same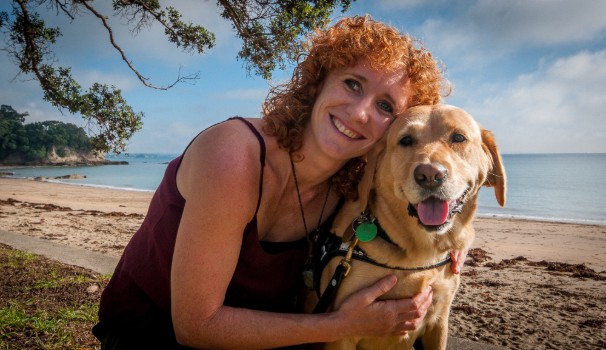 Lisa lost much of her sight as a result of a brain tumour when she was 11. The blood supply to the optic nerve was blocked, and the nerve atrophied. 
"I started getting help from the Blind Foundation when I was 13 or 14," – Lisa 
In the beginning, it was support with technology, like special software that would read aloud everything on her computer screen.
Then on the 22nd of December 1997, Lisa got Amy, her first Blind Foundation guide dog.
"My life literally has never been the same since," she says. "Amy was a companion and my guide. She made me feel so safe."
Having a guide dog gave Lisa the independence she so desperately wanted. Since Amy, Lisa's had another guide dog called Heidi, who sadly had to retire recently.
Guide dogs have a working life of about 8 years.
Right now, Lisa is waiting for another guide dog. In the meantime, she's using a white cane to get around.
Lisa knows that many people prefer using the white cane, but for her, she says,
"I've got to now ask people, 'Where's the toilet', instead of being able to find it thanks to Heidi or Amy.

And then of course there is overhanging things, and having to ask where the counter is in a café, whereas my gorgeous girls would find me the counter.

It's like going back to driving a manual when you've always driven an automatic. It's lonely without a guide dog and it's just not the same."
While Heidi was still in great health and loving her work, it was time for her to have a well-earned rest.
Having to retire Heidi was heartbreaking for Lisa, but thankfully Lisa's been able to adopt Heidi as a pet so Heidi can grow old with the person she loves most.