Five-year-old Laura might not be able to see very well – but that doesn't mean she can't play, learn and even read like the other kids.
Laura was born with a neurological condition that affects her sight. But, with support from Blind Low Vision NZ, her parents Michelle and Gene are determined to see their little girl live a life full of opportunity and joy.
"Laura loves the touchy-feely books that we get from Blind Low Vision NZ Library."
Paulette, a Blind Low Vision NZ Independent Living Specialist, has been a lifeline for Laura and her family. As well as providing Laura with tactile and audio books, Paulette has been working with Laura to prepare her for school.
"I've been encouraging Laura to use her vision as efficiently and effectively as possible. I'm teaching her to be as independent as she can be, given her age," Paulette says.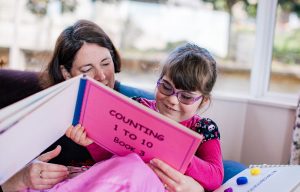 And all that hard work and determination is paying off, with Laura starting primary school this year.
As Michelle says: "Laura has transitioned beautifully. She has made new friends and is excited to go to school every day.
"I've noticed a real change in her. She is so engaged and learning new things. She just seems older now and is better at listening. All the hard work is paying off now. And we couldn't have done it without Blind Low Vision NZ and Paulette."
A big thank you to everyone who donated to Blind Low Vision NZ's Blind Week Appeal. You helped Laura and her family reach this wonderful milestone.
And we look forward to seeing what Laura achieves next!