Guide Dog Puppy Appeal
Hundreds of New Zealanders hope to one day be paired with their own guide dog, and to do that, Blind Low Vision NZ Guide Dogs needs your help.
It costs around $175,000 to raise, train and keep one guide dog in service and the organisation receives no government funding.
With the help of donations, Blind Low Vision NZ Guide Dogs can continue to breed and train the next generation of guide dogs so more blind, deafblind, and low vision New Zealanders can live the lives they choose.
Over the month of March, with your help, we support many fundraising events in the community, raising awareness and funds to support our services (thank you!)
Laura and Ryder
Guide Dog Ryder makes every day better for Laura, helping her to take her kids to school, get to work and all-round live with freedom and independence.
"People like you gave me my guide dog Ryder – you gave me my freedom back," says Laura. "I know there are more people with vision loss waiting for their guide dogs. Please help them get their freedom, too."
Ryder helped Laura get her freedom back.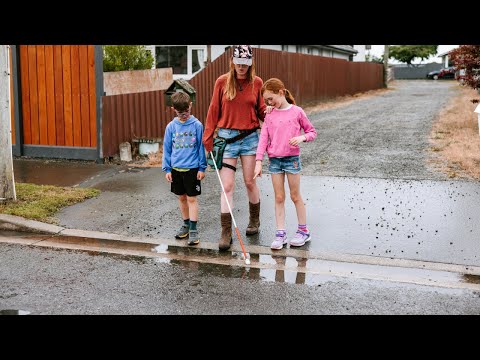 Paws For Purpose
Earlier this year, we presented some of Aotearoa New Zealand's greatest artists with a challenge. Armed with acrylic paint generously provided by our sponsor Resene, we tasked each one with turning a decommissioned Trudy Dog collection box into a unique work of art.
Our Parnell office was soon bursting with the most amazing pieces of puppy art, each with its own name and inspiring backstory. We were blown away by the creativity poured into each masterpiece!
We auctioned off these Kiwiana collector's items in two separate auctions, raising close to $70,000! The proceeds will help ensure a greater number of world class Guide Dogs will graduate each year to serve our growing blind and low vision community. We wish to thank all our artists, bidders, sponsors for all their hard work an support!
Street Collection
Our annual Guide Dog Puppy Appeal street collection plays a vital role in funding practical and emotional support services.
Once a year, we hit the streets to raise funds towards the breeding and training of guide dogs, and raise awareness around the incredible role these dogs play in the lives of those living with vision loss.
With your help during these collections, we can reach more people who are blind, deafblind, or have low vision in your community. The street collection for Guide Dog Puppy Week 2023 will take place on Friday 24 and Saturday 25 March.